Sand Hutton and Claxton Village Hall Sand Hutton, York, YO41 1LL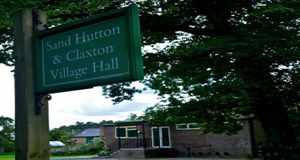 The Village Hall was gifted by the Church Commissioners in 1955, after they had acquired the estate from the Walker family. It had originally been the laundry room of Sand Hutton Hall, more details of which can be seen on the Village Heritage webpage. (LINK).
It is a Registered Charity supporting the community by providing facilities for local groups and individuals. It is the main place in the Parish where we can meet others socially– it's our community centre , providing a sizeable hall space and smaller room for:
Meetings –  eg Parish Council meetings ( open to all)
Social events – coffee mornings, lunch club, private parties, Saturday Socials,Pop up Pub
Activities – bowls, Gardening Club, Women in Harmony Choir, W.I., Heritage Group, Pilates, group stays overnight eg Brownies
Village events – Annual Produce Show, Christmas party/ show, plays, musical evenings, Plant Fair,
The Community Library….comprehensive selection of books and DVD's available on loan
HELP US!……
The Hall is a valuable asset to the Community and has been run by a succession of volunteers over the past 64 years. Many of the events help to raise funds to keep the building safe and well maintained. and its viability depends entirely on the support of the local community participating and/ or giving up some time to help with the running of the Hall. Sponsorship, donations and ideas for fund raising and 'hands on help' are always welcome, such as clearing away at the end of an event. Please give us support in any way you can ,not least by attending some of the events organised by the Committee.
Volunteers to assist the Management Committee of Trustees are particularly welcome Over the years a succession of residents have been on the Committee and found this to be a rewarding and worthwhile experience.
Currently (2019-20) Management Committee members are: Philip Orton(Chair), Sarah Sykes(Treasurer), Lucia White(secretary), Anne White & Fiona Davies (booking team), Caroline Hall, Trish Russell.
Interested in using the Hall? Want to start a group such as dance, film, art, music, discussion, model making, keep fit, or do you wish to hold an event?
The Hall provides:
 Large hall plus tables and chairs and electronic piano
 Small meeting room
 Well equipped kitchen
 Toilets, including disabled facilities
 Good access for disabled
 Full central heating
 Outdoor grassed area
 Large parking area
 Permanent projector screen with laptop and projector available for hire
 P/A system with roving microphone
You're welcome to contact any of the Management Committee for help and advice on use of the Hall, the setting up a new group, publicity etc., or telephone Philip (01904 468525) . Come and see what we've got!
To join existing groups, please contact:
 Green Fingertips gardening club –John Short 01904 468604
 Indoor bowls – Linda and Ken  Spaven  01904 468785
 Women in Harmony – Caroline Hall 01904 468376
 W.I. – Linda Spaven 01904 468785
 Heritage Group – Anne White 01904 468550
 Knit and Natter-Rachel Hirst  01904 468336
 Pilates-Sarah Sykes 01904 468148
Want to hire the Hall for a private event?
Hourly rates are £12 (£7 for local people & affiliated groups). April to September
Hourly rates are £13 (£8 for local people & affiliated groups). October to March
To book, call the Booking Team on – 01904 468001/ 01904 468550
To view or download the hiring agreement and the Terms and Conditions, click on the links below:
SH&C VH Hall Hiring Agreement V 2.4 F 18.1.2023.pdf
Sand Hutton and Claxton Village Hall Equipment Hire Agreement
SH&C VH Users Info Doc V 2.15 F 18.1.2023.pdf
SH&C VH Std. Conditions of Hire V 2.9 F 18.1.2023.pdf
Sand Hutton and Claxton Village Hall Health and Safety Policy
Sand Hutton and Claxton Village Hall Health and Safety Document
Sand Hutton and Claxton Village Hall Covid Safety protocol